Celebrating Montreal Neon Signs 25th anniversary
Enseignes Montreal Neon Signs
1993-2018
Celebrating its 25th anniversary this year, Enseignes Montreal Néon Signs, a full-service Sign company, has come a long way. From a handful of employees in 1993, the company now employs close to a hundred people and has expanded with offices in Ottawa, Toronto & Chicago, to run alongside their state of the art 55,000 sq. feet manufacturing facility in Laval, Quebec.
With this growth has come the ability to service both regional & national organizations & businesses, not only in Canada but across the United States.
The company has become well known across the retail and hospitality sectors for its ability to produce, design, and install quality products such as large-scale pylon signs, channel letters and directional signs. The company has produced signs for the likes of Ikea, Indigo, Starbucks, Choice Hotels, Holiday Inn, to name but a few.
The plan is to double the size of Montreal Neon, growing teams in all locations so they can better serve current customers and attain new business.
"We still have a lot of passion for this business," says Linda Dupré, (Vice-President).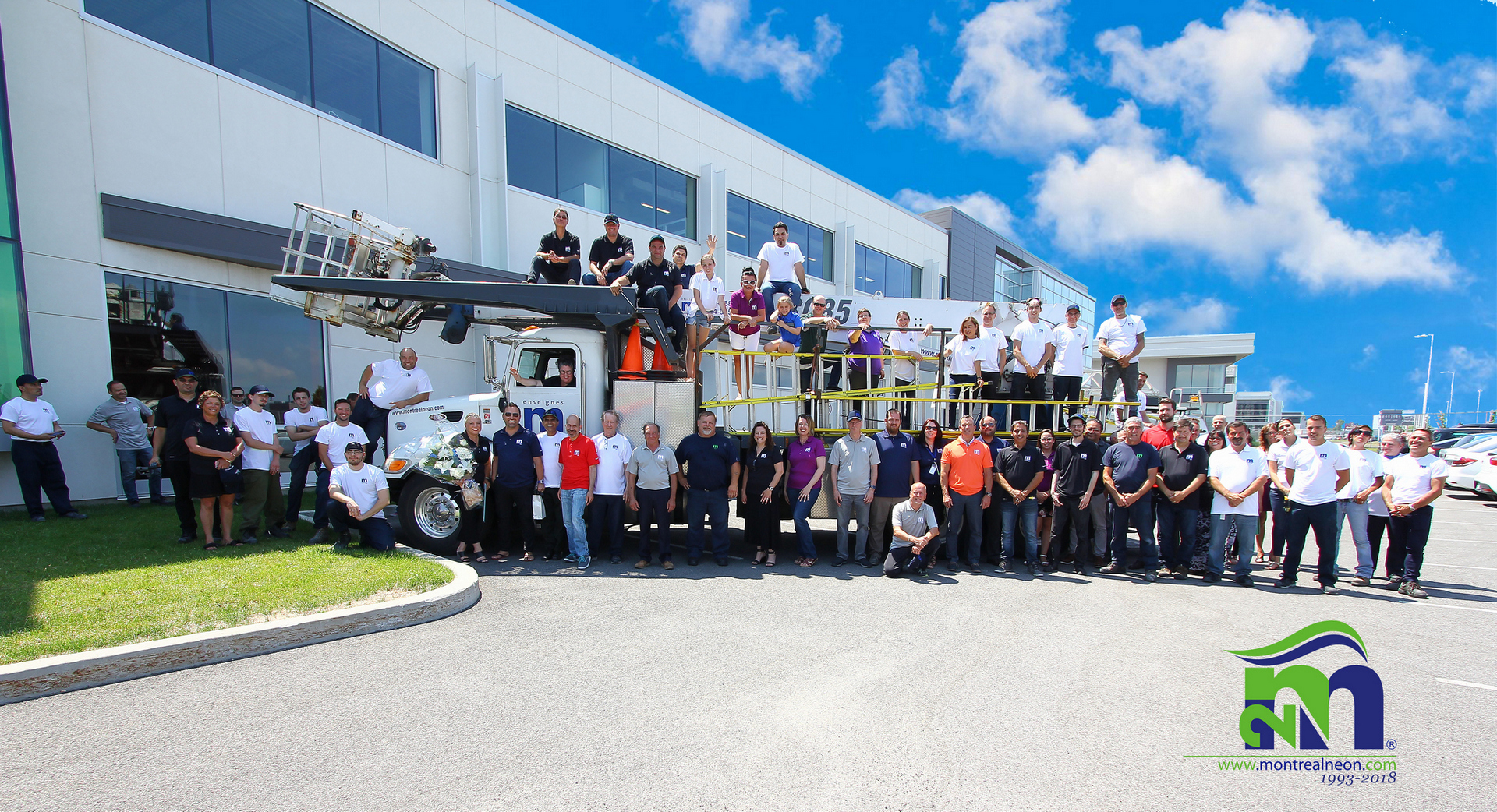 The core beliefs and company philosophy have remained the same, with the belief that the service doesn't stop once the sign is sold. "Customer satisfaction is at the core of our business," says Carlo Paolucci, (President). To sum up their feelings about celebrating 25 years in the sign industry, Carlo Paolucci and Linda Dupré stated;
"We are so proud to have witnessed the evolution of the sign industry in the past 25 years. Our role as a respected and innovating company has allowed us to participate with other great companies and leaders of the sign industry, learning through experience and through the support of experts, who share the same passion and love for this industry. We feel very fortunate to have had the opportunity to meet and discover many different types of people and businesses throughout the last 25 years and look forward to meeting many more. This is a captivating industry, and once you work in it, it becomes your career and something you are so proud to be a part of, that you never want to look back. It's a dazzling and brilliant world!"
Request a quote

FAQ?
How do you ensure on-time delivery?
Montreal Neon Signs has the resources to ensure on-time delivery including a team of experienced Project Managers, the latest equipment, daily staff meetings, a strong technical team, a well-stocked inventory of materials and a fleet of qualified installers across North America.
What guarantee does my sign have?
Our signs are manufactured to the highest possible quality standards and are currently supplied with a one-year guarantee from the installation date.
Do you provide sign maintenance and repair services?
Yes. Our customer service department offers several options to help maintain your sign. You can contact our service department at 1-866-672-4888.
How long will my sign last?
A sign should last about 10 years with regular maintenance. However, many customers replace their signage every five years to keep the image looking clean and relevant. It is important to know that the quality and type of materials used will affect the lifespan of your sign. We only use the highest-rated materials available.
More answers!